Last updated on April 4th, 2016 at 12:38 am
Lotussia Travel is a Hanoi based tour operator offering a wide selection of bicycle tours in all over Vietnam. To Mai Chau valley, in the northern Vietnam we provide to bicycle tour options including easy biking tours and active adventure cycle tours.
Mai Chau Easy Bicycle Tours
These tours includes about two or three hour cycling per day in Mai Chau village. We use private a/c vehicle with driver for the transfer from Hanoi to Mai Chau and vice versa. The bikes we use are classic pushbikes which are available in Mai Chau village.
After about the three-hour drive from Hanoi to Mai Chau, you will have your lunch, provided in a local stilt house. After lunch, you take the pushbike and enjoy the short bicycle tour around the village. If you take the day trip, you cycle back to Mai Chau village around 3 or 4pm and then be picked up again by your car for the journey back to Hanoi. If you book the overnight tour, you will have two half days for the bicycle ride. We usually recommend those who take the two-day tour to spend these two half days in cycling and trekking which offer more experience.
Taking these easy bicycle tours, you will cycle mostly on paved, flat roads. You also bike through local Thai hamlets and rice fields. These options are appropriated for group tours, family travel and those who like a soft, easy tour.
Mai Chau Active Adventure Bicycle Tours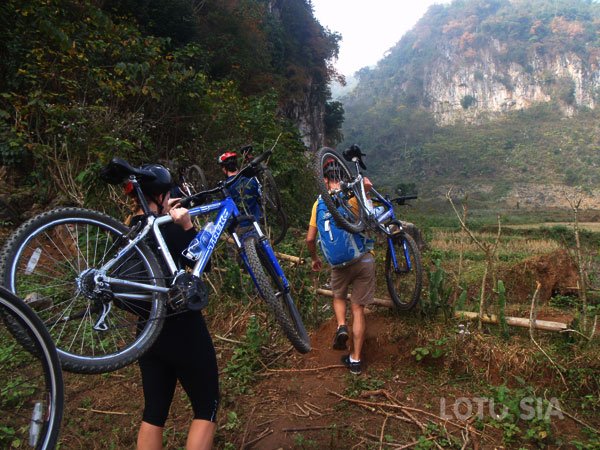 These bicycle tours are more challenging as there are about 4 – 6 hours cycling per day. We use professional bikes such as Trek bikes or Giant bikes at 24 speed drive train. We bring the bike from our bike store in Hanoi. It is possible for you to cycle along the way, before you arrive in Mai chau. We use these bikes for the two-day tours or longer bicycle tours. If you only have one day for the riding experience, we highly recommend you taking the above option.
Booking this option, you have this opportunity to cycle on different biking trails including flat roads, pave roads, village lanes, single dirt tracks, mountain trail. These active bicycle tours are more challenging and are only recommended for active adventure travelers, professional cyclists traveling in small group size.
The best time to do these active adventure bicycle tours in Mai Chau is the dry season starting from October until May the following year. During this period the temperature is cool with little rain. The weather is exceptionally beautiful in late April, early May, late September and early October. You have the opportunity to see local farmers harvesting in the "golden rice fields".
Please note Lotussia Travel is specialized in private customize tours. The above bicycle tours are only some sample itineraries we arrange in and around Mai Chau. These tours can be further customized to exactly meet your needs and budget. If you have any question or comment, please do not hesitate to write our team at travel at lotussia.com or visit our official site at www.lotussiatravel.com